Our Team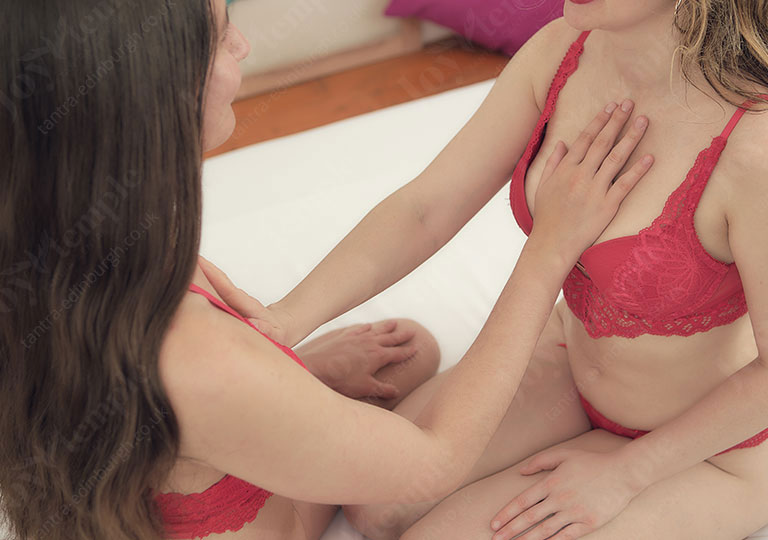 The founder and her becoming so
My name is Erotica Sublima and I am the founder of Joy Temple, the head teacher here, and leader of the team of Joy Temple's tantrikas.
Once I embarked on the Tantric path, I felt there was no other possible way for me to live my life but following these principles. Even as a child I would always feel inclined to share in an inspiring way, with others all mysteries that I would discover. Therefore, it was only natural that once on this path, teaching it to others was going to be part of my life, as well.
I first started by leading groups of women on this path of tantric self discovery and reconnecting to our feminine power. This still remains my "dearest child", so to say. Once we became a power as a united feminine group, we came to the point of wanting to share it further, and help others in discovering the path and enriching their lives with the help of refined eroticism, as well.
So this is how we started offering tantric massages to people who were in a search towards filling up the emptiness that just instinctual sexuality would live in their lives.
Starting to explore in this way the game of polarity, paying attention to how we can specifically guide men towards exploring these principles and ways of enjoying sensuality in this renewing manner, as well, opened up an entirely new stage in our lives and it then become ever more complex and fulfilling.
I soon realised that it was my life's mission to create the space and offer specific means to people, both men and women, for them to discover their own path towards genuine and euphoric Joy that seems to be coming from a mysterious place, which in reality we discover right within the most profound depths of our own being.
The spiritual creation of our team
I would first start close to home, and focused on sharing this space with those who already have years of experiencing tantra in their own lives, and wish, for longer or shorter periods of their lives, to join me in passing on this authentic tantric knowledge, by means of direct experience to the people of Scotland and all others who find us in this special realm.
This is why, you will see that when you become a constant guest of our Joy Temple, you will get a chance to meet over time a wider range of tantrikas during your massage sessions, as we are offering to them as well, this space as a means for them to continue their own growth, from the level where they already are. And they usually alternate periods of walking the path from within the space of our Joy Temple, with periods when they either travel the world, or return to their roots, continue to upgrade their further learning and trainning, and then return to you, with even more depth of knowledge and complexity of experience.
Gradually, as we started to grow as this powerful group of ever growing spiritual women on the tantric path, we continued to develop what we would offer to you, our guests, because we did notice how just as Tantra states, all things and beings are indeed continuously interconnected. The more our inner circle of women grew spiritually, the more our tantra massage guests would open up and become thirstier for tantric spirituality, wishing more and more to explore and discover themselves more of what the tantric path has to offer and reveal to them.
Thus the time came to find a space for more complex teachings, beyond the experience of tantra massage, but building up on it.
This is how Joy Temple came into being. And now we have here a centre of authentic tantric spirituality, where the team always amazes our guests with how united we are, while simultaneously being greatly diverse in our uniqueness.
Sharing a bit more about who we really are
We are not just a team of multiple members, but we are one united soul animated by the desire to coherently ignite and awake in you the desire to live life in a sacred manner. This soul we represent wishes to know the real you, beyond any social masks or hats.
This united soul of our team has prepared for you, based on our personal experience, a path of self-knowledge by means of sacred eroticism - this magical ingredient, which so many imagine and think they know a lot of, but which in reality is only very little known, by very few.
We all act together, united towards the same purpose and we each come towards you with unique experiences that will help you discover the magic, freshness and deliciousness of the sensorial complexity that exists in your soul.
We don't just speak to you about the millenary tradition of tantra as a dry theoretical philosophy but we aspire to help you directly experience it yourself, within your own being, under our skilful guidance and inspiration.
We have no intention to impose on you any new life principles. The freedom of choice is entirely yours. We just want to present you with this tantric and elevating alternative, so that you truly have a choice, and don't just follow the default settings.
We are quite confident, though, that once you have had a taste of the pure eros that is awakened through the art of genuine tantric massage, you will no longer wish to go back to the limitative and draining manner of living from before.
Therefore, to meet your newly awakened aspirations, we offer to you the required tools, the means by which you can start walking this path of continuous self-discovery by means of pure eros.
We are thus offering workshops that also include tantra massage, we do weekly courses for you to learn each step on this path of Tantra, so we can help you find answers to all your emotional, erotic, and spiritual desires.
Featured words to describe us as a team: harmony, beauty, feminine mystery, love, transfiguration, good will, generosity, altruism, compassion, acceptance, transparence, essence.
Do you know who your tantrika is? She is a godly channel through which you are offered pure spiritual energy. During her time with you, she ceases to exist for herself, as she offers herself as a channel for you, so that she can mysteriously welcome you within her inner universe, thus perceiving your needs and deepest desires, but also the most efficient means by which she can best assist you in spiritually growing the best that you can during your session with her.
Her focus is to perceive how she can best awake the erotic energy in your being and how to make it rise harmoniously as to nourish your entire being.
Each time she will offer you a unique, delicate, intimate and refined experience, full of purity and tenderness. Through this attitude she is able to connect herself to the supreme, infinite surse of this Universe, of all that exists. And she will also assist you, dear guest, in gradually perceiving more and more precisely your own connection to this Source.
To us each massage session is a sacred ritual, and you are invited to be fully present in the unique present moment of each session. Don't expect this session to be the same as your last. Simply be open and prepared to be surprised. Relax and pay attention to all your sensations. Experience what we refer to as relaxed awareness.
Who we are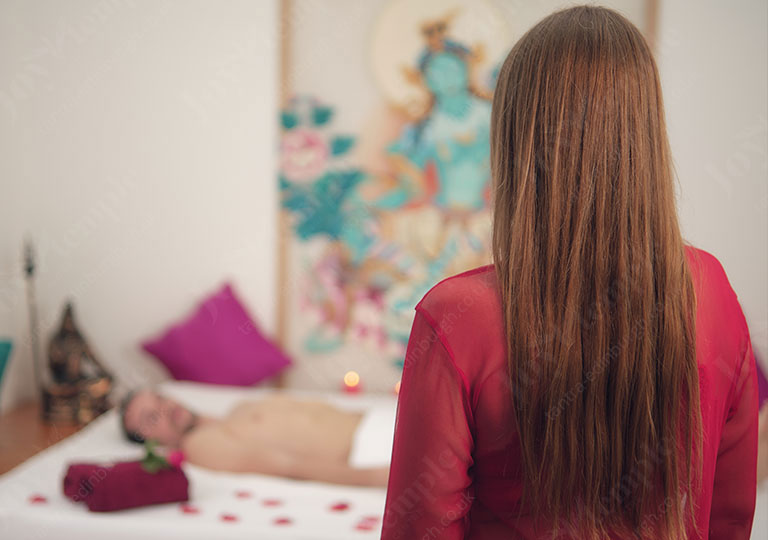 Many people merely know of Tantra as being something mystical, related somehow to the Orient and most of all to eroticism and sexuality.
Well, genuine Tantra is indeed quite rare nowadays, and while it does relate to the erotic energy and pleasure, Tantra does not only enhance erotic pleasures...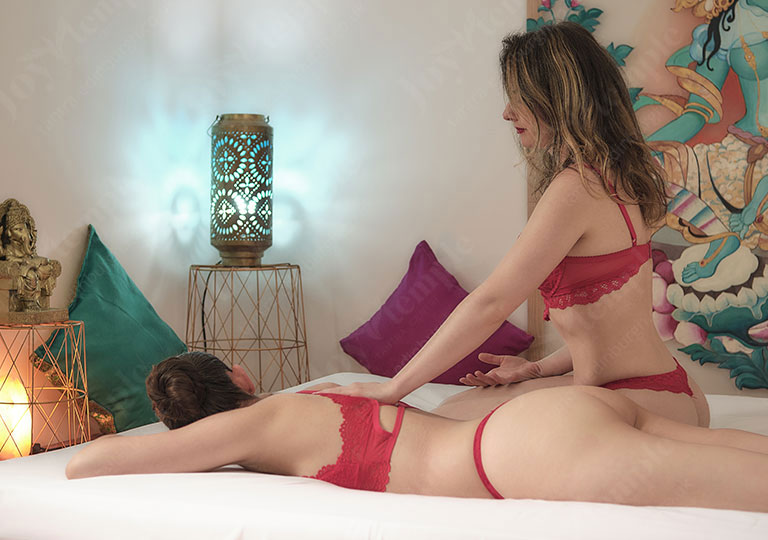 Joy Temple, the Tantra Centre in Edinburgh, invites you into a world of mystery, refined eroticism and feminine beauty.
Our Temple is a sacred space: here you can feel safe, free to let go of any tensions, prejudices, or preconceived ideas and simply be.